Georgetown Public Policy Review / Access to Healthcare during the pandemic in Washington, D.C.
Introduction
The contagious disease caused by the severe acute respiratory syndrome coronavirus 2, also known as COVID-19 has had disastrous consequences worldwide. First and foremost, it has led to a dramatic loss of lives and presented unprecedented challenges to public health and the officials responsible for public health. Moreover, this pandemic has caused massive socio-economic disruption.
Millions of people are at risk of falling into extreme poverty, and over 132 million more people could be undernourished by the end of 2020. Nearly 3.3 billion people are at risk of losing their jobs and livelihood. A majority of informal economy workers have been affected the most due to a lack of social protection and access to quality healthcare. The loss of jobs has made it hard for people to provide for themselves and their families.
Governments at all levels should respond swiftly to this pandemic to ensure adequate resources and assistance are directed toward the public. In the District of Columbia, the poorest neighborhoods also had the highest rate of COVID-19 deaths. A year's worth of pandemic evidence shows the DC government did not adequately protect its low-income citizens during a health crisis. The pandemic was an opportunity for DC to create a more accessible healthcare system for lower income residents.
The District of Columbia
Figure 1: Unemployment Rate in the District of Columbia (March 2018 – November 2020)
In 2020, the unemployment rate in the District of Columbia drastically rose in March and peaked in April, as seen from Figure 1. On March 24, 2020, Mayor Muriel Bowser issued the Mayor's Order 2020-053 that restricted business activity in the District and directed the closure of non-essential businesses. The following week, on March 30, she also issued the "Stay at Home" order. On May 21, 2020, the ReOpen DC Advisory Group created by Mayor Bowser recommended a four-stage approach for reopening the District.
Certain activities, where the risk of transmission was determined to be low with strong safeguards in place, were allowed to restart in the first phase on May 29, 2020. The "Stay at Home" orders were lifted, but there was still a prohibition on gatherings of more than ten people. This meant that non-essential retail businesses could be open for curbside pick-ups and deliveries, but indoor shopping was still prohibited. Barbershops and salons were allowed to operate by appointment only. All non-essential businesses were only allowed to conduct minimum business operations, curbside pickup or delivery, or home-based services.
At the time of writing this article, DC was in phase two of reopening. This means that things were starting to look as if they were returning to normal. However, restrictions were still imposed on indoor dining, and non-essential businesses were still required to telework, among other things.
I believe that the unemployment rate dropped after the month of May 2020 (as seen in Figure 1) because DC's businesses began reopening. But at what cost? We see from Figure 2 below that the number of cases has just been rising for the past months. Particularly, Ward 4 was hit the worst compared to other wards in the District, with Wards 5, 7 and 8 trailing not so far behind. Wards 2 and 3 on the other hand seemed to have lower cases compared to all other areas in the District.
Figure 2: Progression of COVID-19 in the District of Columbia (by Ward)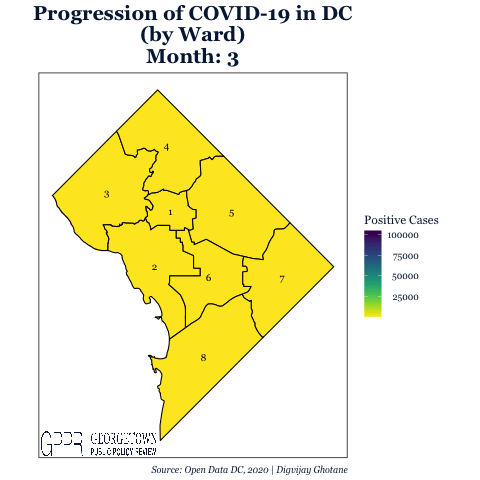 But that brings me to an important question and the crux of this article – Was the DC Council prepared for this?
Extent of Action of the D.C. Government
First and foremost, I believe that a government must be prepared for a public health disaster of such magnitude. It ought to be the duty of the government to make sure that hospitals are stocked. A local government needs to ensure people are receiving good and affordable health care. From Figure 3 below we see that most deaths occurred in Ward 8. Economically speaking, Ward 8 has one of the lowest median household incomes in the District of around $40,000. That is followed by Ward 7 and Ward 5, with Wards 6 and 1 trailing behind Ward 3 which has a whopping median household income of $122,000 . This is alarming since we could say that even in the capital of the country, health care is a privilege of the rich.
Figure 3: Deaths due to COVID-19 in the District of Columbia (by Ward)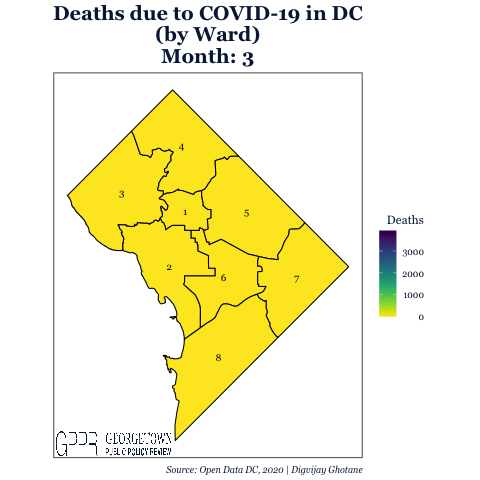 But what about the hospitals? Were they equipped to deal with the privileged?
Figure 4: Hospital Logistics in the District of Columbia during COVID-19 in 2020
In Figure 4, we see the total number of Intensive Care Unit (ICU) beds and ventilators that were available for use throughout 2020, starting March. I believe the surplus of beds and ventilators indicates that DC's hospitals were equipped to deal with COVID-19 patients. But, the problem is, not everyone can afford to go to the hospital. This is probably why we see high rates of COVID-19 in the District's poorer Wards, despite a surplus of ICU beds and ventilators. The underprivileged who have been dying because of COVID-19, especially from Ward 8, could have been given access to these excess supplies.
The government should set up a system where healthcare can be accessed by all, without the fear of not being able to afford it, especially during such a crisis. Additionally, the DC government should encourage hospitals to reallocate surplus supplies to the needy. I believe that with better planning and resource management, a better public health ecosystem to combat this virus could keep more people alive can be achieved.
Conclusion
Coronavirus has affected all of us. Our lives have changed. The poorest communities have been hit hardest. My understanding is simple. If you're poor, you're probably losing your job. If you're poor, you're probably dying. The government is trying its best, but they can do better. COVID-19 deaths in DC are concentrated in the lower income wards (4, 5, 7 and 8) – which shows that their best effort was not enough. I believe it is the hour of need for the DC Council to consider this and divert health care resources to these underprivileged areas so that the loss of human life can be minimized.